The Bulldogs were blanked for the second time this season by Denver, 1-0, in a NCHC game Saturday night at Amsoil Arena. Fourth-ranked UMD defeated the seventh-ranked Pioneers 5-2 Friday night. The Bulldogs fell to 18-8-2 overall and 11-6-1 in the NCHC, good for second-place in the league and two points ahead of third-place Western Michigan (17-10-1, 10-7-1-1), which split a weekend series against fifth-place North Dakota.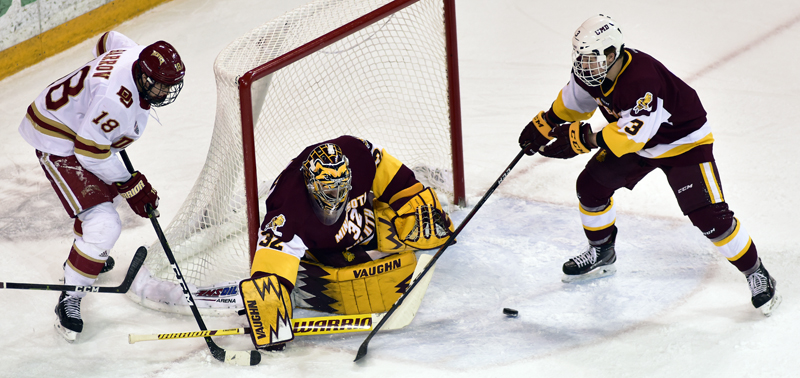 . . .
The Proctor-Hermantown Mirage will face Rochester Lourdes in a Minnesota Class 1A girls hockey state tournament quarterfinal at 8 p.m. Wednesday at Xcel Energy Center in St. Paul.
WEDNESDAY QUARTERFINALS
Breck vs. Fergus Falls, 11 a.m.
Mound-Westonka vs. Mankato East, 1 p.m.
Warroad vs. St. Paul United, 6 p.m.
Proctor-Hermantown vs. Rochester Lourdes, 8 p.m.
FRIDAY SEMIFINALS
11 a.m., 1:30 p.m.
SATURDAY FINAL
4 p.m.
All games played at Xcel Energy Center
Source: Hermantown Schools Facebook page
. . .
The Section 7AA and 7A high school boys hockey tournaments continue Tuesday night with quarterfinal games at several sites. Below is the schedule:
Section 7AA
Duluth Marshall at Duluth East, 7:30 p.m. Essentia Duluth Heritage Center
Grand Rapids at Cloquet, 7 p.m.
Elk River at Forest Lake, 7 p.m.
St. Francis at Andover, 7 p.m.
Section 7A
Hibbing at Hermantown, 7 p.m.
Eveleth at Virginia, 7 p.m.
Ely at Duluth Denfeld, 5:15 p.m.
North Shore at Greenway, 7 p.m.